Well established as the go-to brand for off-roading superiority and exploration fun, Jeep is seeking to expand their wheelhouse to once again include the best midsize pickup truck around!  Classic Jeep enthusiasts have asked for it for years now, and now they're finally receiving; the 2020 Jeep Gladiator has debuted at the 2018 November LA Auto Show. Last seen in the 1980s, the Gladiator comes out of its 26-year hiatus with a fantastically renovated modernity that still carries that nostalgic Jeep look evocative of the recent Wrangler redesign.  Cleverly functional with all the versatility and capabilities you expect out of this brand, the Gladiator is a one of a kind truck that's unlike any other vehicle on the market today!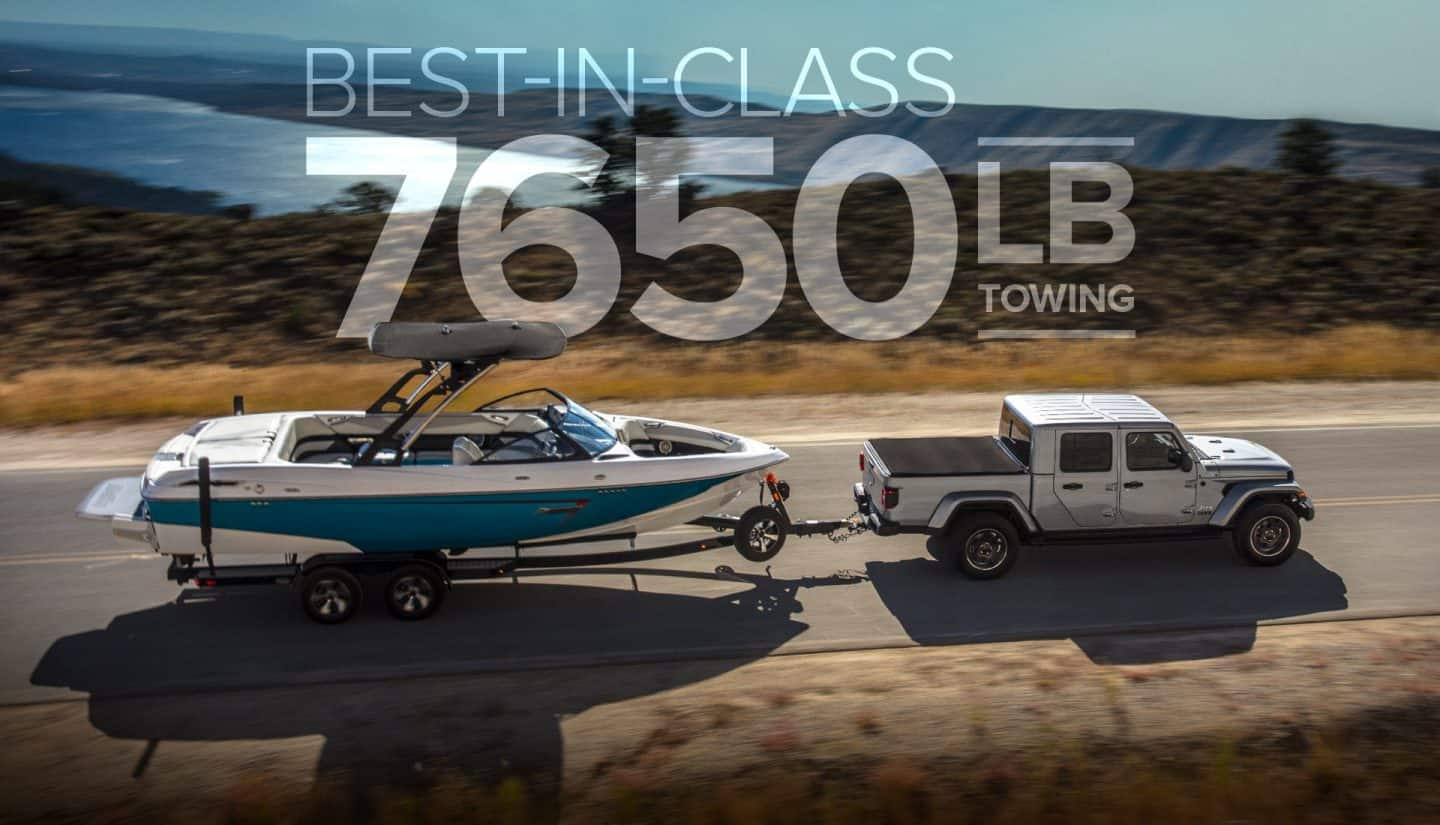 Adventurous capability begins with energetic and unbridled power, and for that, you have choice of Jeep's specially engineered off-roading 4x4 systems paired with two fantastic powertrains.  First is the same 3.6-liter V6 Pentastar found throughout the Jeep vehicle lineup, producing an enhanced level of performance thanks to a wider grille and hood vents. You get 285 horsepower and 260 lb-ft of torque out of this engine with a broad band of torque both for low-gear off-roading and high-gear towing and hauling needs.  A six-speed manual transmission is standard on all Gladiators equipped with the Pentastar, with an optional automatic eight-speed transmission for those who want a little more convenience in their midsize truck. Enhancing efficiency and power is the 2.0-liter EcoDiesel V6, rated to produce 260 horsepower and 442 lb-ft of torque. To handle this bigger torque output, the eight-speed automatic comes standard in vehicles equipped with this powertrain.  Thanks to these great performance numbers, the Gladiator can tow a best-in-class 7,650 pounds while still maintaining crawl ratios and all-terrain conquering famous of Jeep. Both engines are equipped with ESS technology, halting engine activity while you're at an idle standstill to conserve fuel.
The 2020 Gladiator possesses similar off-roading systems as found in the Wrangler, with availability of either the Command-Trac or the Rubicon-exclusive Rock-Trac.  The Sport and Overland trims come with the Command-Trac, a part-time 4x4 system that engages four-wheel drive as the power is required. Its shift-on-the-fly system totes a 2.7:1 low range transfer case for rock crawling and tow performance.  Any off-road enthusiast already knows the fantastic engineering and equipment that comes with Rock-Trac equipped Wrangler Rubicons. Full-time 4x4 action engages the full potential of the Gladiator, granting you better control and more torque for exceptional off-road performance.  The tough-as-nails NV241 transfer case grants a 4:1 low-gear ratio, while the Tru-Lok electronic locking front and rear differentials and electronic front sway bar disconnects gives you the best maneuverability across uneven terrains and big 43-degree ascent and 26 degree descent angles.  Both 4x4 systems equip the Gladiator with third-generation Dana front and rear axles equipped with aggressive 17-inch wheels. The Rubicon gets 33-inch tires standard, affording you with up to 30 inches of water fording!

Truly set apart from the typical truck market, the Gladiator features design aspects that are only found in Jeep.  Everyone loves the open-air freedom that's iconic of the Wrangler's bare-frame. Find just the same with every Gladiator, the only open-air truck in the industry!  Elements such as the hood, hinges, fenders, windshield frame, tailgate, and doors help to curtain body weight, conserve fuel economy, and make for easy removal. The windshield has been simplified down to a four-bolt design along the frame's top for the windshield to be folded down quickly and easily.  The soft top features a dual-hinge disconnect that easily folds back, while hardtops are a three-piece system disconnected with quick-release latches and two Freedom panels. All hardtops also feature a manual rear sliding window. Of course, the five-foot long bed is the crowning defining feature that the Gladiator brings to the table, stretching the Gladiator 31 inches longer than a Wrangler Unlimited and widening its wheelbase by 19 inches to accommodate the new center of gravity for better stability and handling.  It possesses a traditional steel bed and damped tailgate with three stopping positions. Each comes with a soft top tensioned bed cover that can be rolled back to expose for loading up a best-in-class 1,600 pounds of payload.
We've got to commend the extraordinary engineering and genius that Jeep has dedicated to the 2020 Gladiator's years-long development.  Previewing the released details of this midsize pickup proves the long wait was definitely worth it! Pearson DCJR will be keeping a close eye on Jeep's official announcement page for further updates about the 2020 Gladiator's features, strength, and performance.  Slated to arrive to showrooms in 2019's second quarter, we expect the 2020 Gladiator to be in our inventory by summer!